Cosmetic Dentistry Creates Dazzling Transformations in Wayland, MA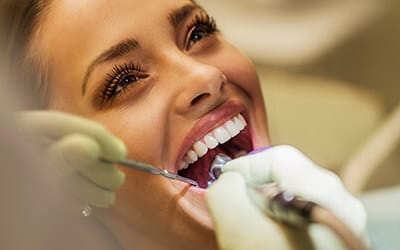 Every patient deserves to enjoy a smile that they're proud to show off to the world around them. Sadly, imperfections and flaws can accumulate on even healthy teeth over time, leading to a diminished sense of self-confidence and a tendency to hide in the background of pictures. With the power of cosmetic dentistry, Dr. Michael Putt wants to transform your "ordinary" look into something truly extraordinary. At Wayland Dental, patients from Cochituate, MA and surrounding areas can find the sophisticated, effective treatment solutions they need to smile brightly again. Contact us today to schedule a consultation at our Wayland, MA office!
When you come in for your consultation, Dr. Putt will begin by discussing your personal goals for your new and improved smile. We can treat a number of aesthetic concerns, including:
Chips/Cracks
Stains/Discoloration
Gaps
Misaligned Teeth
Misshapen Teeth
Uneven Gum Line
Once we're clear on what needs correction, it'll be time for our team to start making recommendations about the specific procedures that might fit your case best. A variety of services are available at our practice, including bonding, teeth whitening, white fillings, Invisalign, one-visit CEREC crowns, porcelain veneers, gums recontouring and crown lengthening, and more. You may achieve the results you're looking for with just one of these services. In other cases, several of these services may be needed to restore your teeth to their former glory. By designing a custom smile makeover plan, we'll address your needs in a way that fits your budget and schedule while also exceeding your expectations. Let's examine some of the treatments available from your cosmetic dentist in Wayland, Dr. Putt.
Porcelain Veneers
For a smile that is compromised by a number of unsightly flaws—chips, cracks, discoloration, misshaped teeth and even teeth that are slightly crooked—you may want to consider porcelain veneers. Made of top-quality dental porcelain or composite resin sometimes, these are natural looking coverings that are cemented to your teeth. Each one is custom designed and crafted to change the look of a specific tooth. In combination, porcelain veneers create a brand new smile that is as strong as it is beautiful.
For you porcelain veneers, Wayland cosmetic dentist Dr. Putt will carefully analyze photographs, x-rays and molds of your teeth in order to design veneers that are customized for your smile. At the conclusion of your treatment, you will leave our office with a smile that fits the size of your mouth and complements your unique facial features.
CEREC Same-Day Crowns in Wayland
If you need a crown to rebuild a tooth and your smile, Wayland dentist Dr. Putt offers CEREC same day crowns. Wayland residents can enjoy the look and feel of a customized crown without having to wait the two weeks that is necessary for a traditional crown to be manufactured in a dental lab.
CEREC combines advanced computer technology with an in-office milling unit to give you a crown in a single visit to our Wayland dental practice. Dr. Putt prepares the tooth and an intraoral camera creates a virtual impression that the CEREC computer and software use to design your crown. This design is transferred to the milling unit right here in our office, which carves your crown in about 20 minutes. The crown is cemented over your tooth and you are on your way!
Contact our practice today if you have any questions about any of our cosmetic dentistry procedures, or if you're ready to schedule an appointment.