CEREC One-Visit Crowns at Wayland Dental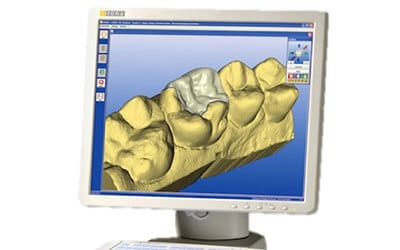 Cracked, broken, and decayed teeth can be repaired and restored to their original glory with a dental crown. The crown covers all surfaces of the tooth and protects it from further damage while also improving its strength, its natural shape, its aesthetic appearance, and more. However, many patients become frustrated when they're given the news that they need a new crown because they know they'll have to rearrange their busy schedule to accommodate two appointments. Traditional crowns take two visits because the design is sent to a dental lab where the crown is fabricated; in the meantime, patients are given a temporary crown until the finished product arrives at the dental practice and it can be swapped in. Thankfully, Dr. Michael Putt is happy to offer a much-improved alternative to this process, saving patients plenty of valuable time while maintaining the same high quality results they deserve: CEREC.
With the help of the revolutionary CEREC technology, our dental team can design, mill, and place a permanent, all-ceramic crown in a single visit right here in our Wayland, MA dental office. Contact our practice today if you have any questions, or if you're ready to schedule an appointment. We look forward to welcoming patients from Natick, MA and surrounding areas!
How does CEREC work?
With CEREC, there's no messy impressions, no temporary crown, no waiting for the lab to send the permanent restoration, and no second appointment. Instead, Dr. Putt will prepare the tooth or teeth in question and then simply take a convenient, digital scan. With 3D computer software, he'll design your new crown and then send that information along to the in-house milling unit. Once the milling unit has crafted the finished crown, our team will make any necessary, last-minute adjustments to ensure the perfect fit before cementing it into place within the patient's mouth. That's all! The entire process only takes between one and two hours, and patients are sure to have their expectations exceeded by the results.
In just one visit, Dr. Putt can design beautiful, metal-free crowns using CEREC technology, as well as custom inlays and onlays, which are partial crowns used to restore teeth that need more coverage than a filling but less than a full crown. Best of all, CEREC allows us to preserve more of your natural tooth structure throughout the treatment process because of the digital scan's precise readings, keeping your smile healthier and stronger overall.