Invisalign® Clear Braces in Wayland, MA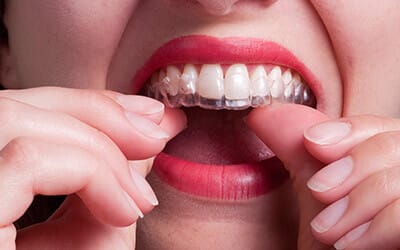 In the past, straightening your teeth meant filling your mouth with sharp metal brackets and wires. For three years – or longer – you'd have to wear metal braces, attending tightening appointments every few weeks. It's easy to see why most adults decline orthodontic treatment. Today, we have an alternative to traditional metal braces. With Invisalign, you can bypass this traditional technique and head into a straighter smile with lightning speed. Contact our Wayland, MA team today to schedule an Invisalign consultation.
Invisalign clear braces are translucent aligners that gradually reposition teeth. Dr. Michael Putt designs the treatment plan from start to finish, and then you simply switch out your aligners every two weeks. Six-week progress reports allow Dr. Putt to monitor your smile's improvement.
With Invisalign, you can have straight teeth with virtually no one knowing you're undergoing treatment. You have the freedom to remove the aligners as you see fit (for example, when eating or brushing), and many patients complete treatment in under a year. Most adults with minor orthodontic issues are candidates for Invisalign.