TMJ Therapy in Wayland, MA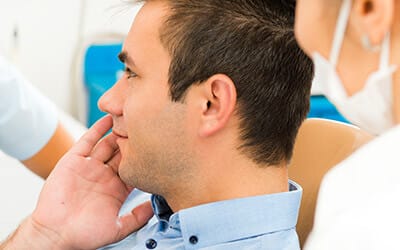 Many people can go their whole lives without realizing that they have little joints that are located right in front of the ears. These are more properly known as the temporomandibular joints (TMJ), and in normal, perfectly healthy circumstances, they have the important job of joining your lower jaw to the temporal bone, essentially facilitating the movements of your mouth. However, even the slightest misalignments or irritation can lead to serious dysfunction. More commonly known as TMJ disorder, this condition can result in a series of near-debilitating consequences, including jaw clicking, significant facial pain, and more. At Wayland Dental, our team can diagnose the condition of your TMJ and provide helpful solutions like occlusal splint therapy and adjustment to restore your quality of life. Contact our Wayland, MA office today to schedule an appointment!
TMJ disorder is a very common issue in our culture, which is why Dr. Michael Putt will always include a TMJ screening as part of routine check-ups for patients from Sudbury, MA and surrounding areas. If we determine that correction is necessary, we may recommend occlusal splint therapy to provide relief and support to your hurting jaw. The custom appliance is designed so that it readjusts the resting position of your lower and upper jaw, reducing muscle pain and preventing dental damage. Over time, the diligent use of an occlusal splint can establish normal jaw function and permanently adjust your bite. Alternatively or in conjunction with splint therapy, occlusal adjustment may be achieved by altering certain teeth in your bite.