Quality Dental Implants in Wayland, MA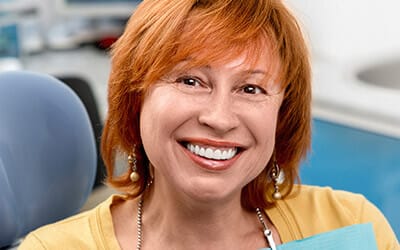 Tooth loss is a devastating event, negatively affecting your oral health, your smile's ability to function, and your overall sense of confidence and self-esteem. Thankfully, patients in this situation have several options to replace the missing teeth. One of the most predictable and long lasting is a dental implant. Unlike other, more traditional tooth replacement methods, dental implants are designed to replicate the entire structure of the natural tooth, including both the crown (the white, visible portion) and the root (the portion hidden beneath the gum line). In comparison, bridges are held in place by crowned teeth, and partial dentures are attached with clasps. Because they mimic nature's natural design, implants provide exceptional durability and health benefits, as well as a seamlessly lifelike appearance that's virtually impossible to differentiate from remaining healthy teeth. At Wayland Dental, we're happy to help patients achieve these stellar results. Contact our Wayland, MA location today to schedule an implant consultation with Dr. Michael Putt, or if you have any questions or concerns our team can help you with.
The Dental Implant Process
Once it's been determined that you're a good candidate for dental implants, the first step of the procedure will be to place the actual implants into the jawbone. This allows them to naturally integrate with the natural tissue and bone over a period of time, creating a strong foundation for eventual replacement teeth. Once this is complete, patients from Framingham, MA and surrounding areas will return to our practice so that Dr. Putt can design and place a new, custom restoration over the implant, completing your new and improved smile. Your restoration model will depend on the scope of your tooth loss, your oral health, and your personal preferences. Options include:
Implant-Retained Crown – When restoring a single implant, a quality, all-ceramic crown is the option of choice, allowing our team to replenish the lost tooth structure without requiring significant alteration of nearby healthy teeth in the process.
Fixed Bridge/Denture – If your tooth loss is more extensive, an implant-retained prosthetic can provide coverage that's strong and cost-effective. This device will closely resemble a traditional bridge or denture with one important difference – it's designed to securely attach to placed implants for added stability.
Overdenture – Overdentures are extremely similar to fixed implant bridges and dentures, save for the fact that they're designed to still be removable in nature.
Dental implant patients experience renewed ability to chew crunchy and hard foods. Their sense of taste often improves as well. Oral function becomes comfortable and dependable, and because implants look natural, self-confidence returns. With the proper amount of care and maintenance, implants can easily last 30 years, 40 years, or for the rest of your life.