Wayland Dental Returns!
We are very excited to announce that Wayland Dental will be resuming our practice operations starting on May 27th! Previously, our plan was to reopen on May 18th, but due to recommendations by the Governor and a lack of PPE throughout the entire dental industry we had no choice but to once again postpone our opening. I apologize for the delay, we are all very anxious to see you again in the office!
Although we still face significant shortages of the protective equipment that we need, we have acquired enough to open our office in a safe and gradual way. More specifically, on May 27th our doctors will be working to help patients whom have had dental emergencies over this period of shut down, and to stabilize those patients who have the most significant needs that we were not able to be treated while closed. Soon, we will be bringing back the hygiene team to provide their magnificent services for our continuing care program. Similar to the doctor strategy, any patients who were cancelled due to the crisis with more urgent periodontal needs will be appointed first to help them get back on track quickly. Our office will be contacting those of most urgent need to be treated as soon as possible.
Challenges have made us stronger!
As you know our patients and team's health and safety has always been and will continue to be our highest standard! During the shelter in place our team has been busy reinforcing what we have always done to keep our patients safe, secure, and informed as well as implementing additional steps so that we can re- open with confidence! During this time we feel that it is very important to keep our patients updated and supported every step of the way.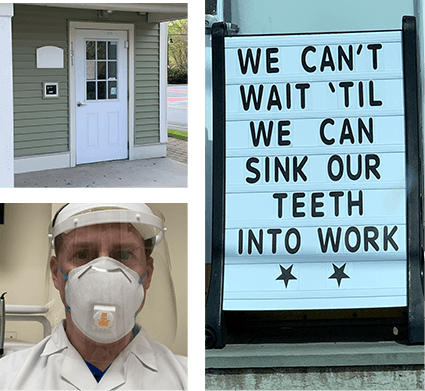 Although some things around the office will be different we want you to know:
That we are paying close attention to the evolving CDC guidelines and will ensure that our practice is safe for all those we are honored to serve. A whole office air filtration system that disinfects the air 6 times per hour as well as copious PPE usage are the cornerstones of your safety.
Our team has worked diligently to make sure that all social distancing requirements are in place, so that every patient can come back to care with confidence.
Your dental health is important and impacts your overall health and we are committed to supporting each and every one of you as we return to full services beyond emergency care.
Our hygienists have streamlined their protocols, so that patients can return to their continuing care intervals, which are key in maintaining health and well-being.
We will continue to post updates, as well as tips to keep you healthy during these unprecedented times on our website Waylanddental.com and our social media sites: Facebook and Youtube. We invite you to join the conversation!
Learn more about our safety procedures and protocols
We look forward to seeing you soon! Our greatest reward comes from keeping our dental family healthy!